Add beauty, value, and functionality to any room in your home with custom built-in cabinets.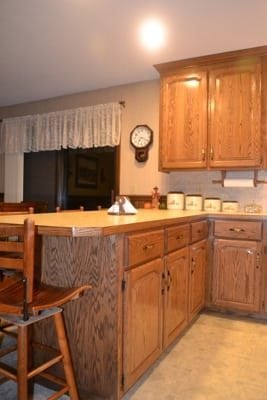 There are several reasons why built-in cabinets are gaining in popularity for Hickory, North Carolina homes. Here at Rudisill Cabinet Shop, we've always been happy to help our customers transform a room and make it far more functional than could ever be achieved with prefabricated, inferior-material quality cabinets. Every room in your home can benefit from built-in cabinets and we can work with the plans you have in mind or offer suggestions based on our many decades of experience.
Built-in cabinets are a great way to increase the value of your home. Buyers love seeing a home that has ideal storage already provided for around the home because they know that represents an easier move overall. Not only can they sell their free-standing cabinetry and make some extra money, but they won't have to pay to move it.
Another advantage of built-in cabinets is that by placing them along exterior walls, they add insulation to your home. If this is one of your main objectives, be sure to let us know that so we can discuss ways to make your cabinetry even more insulative, if you wish. Custom built-in cabinets are also a great way to work with a wall that is far from aesthetically pleasing. Combining beauty and function is always a great way to improve a room.
Popular Choices for Built-in Cabinets
At Rudisill Cabinet Shop, we take pride in offering built-in cabinets as solutions for various concerns that homeowners in the Hickory, North Carolina area can face. There are many ways we can assist you to make your home more valuable and enjoyable in the years to come. Here are the most popular choices for built-in cabinets. Let us know if any of these sound like an option for your home or if you have other ideas in mind.
Home Office- While bookcases are obviously ideal for books, they can serve other purposes, as well. For example, put a few built-in cabinets and bookcases in a home office to hold supplies, manuals, knickknacks, awards, files, and other materials you need to work from home.
Garage- Built-in cabinets can be quite useful for getting your garage organized so you'll always be able to quickly grab the tool or other item you are looking for.
Media Room- Built-in bookshelves can be designed to hold movies, CDs, vinyl records, video games, and other items you regularly use in your media room. Built-in cabinets can also be created to serve as a stand for your television and other electronics.
Master Closet- Shelving and cabinetry make any size closet more functional and organized so you can quickly locate the ensemble you want and save time in the morning.
Laundry- Efficiency can shorten your time doing laundry, so consider cabinetry to store laundry soaps and other cleaning products and a work surface to fold laundry.
Bathroom- The more organized your bathroom is, the less time you'll need to get ready in the morning, and that could mean you get to hit the snooze bar one more time!
Kitchen Pantry- Take advantage of bulk grocery sales with spacious kitchen pantry cabinets that are well-organized so you can keep everything rotating nicely to avoid anything going out of date.
If you have any questions about our built-in cabinets or would like to get our opinion on a photo you've seen, feel free to email it to us and we'll provide you with our recommendations and a quote. All of our custom work utilizes quality materials – no particleboard or other composite materials, so you can be confident of long-lasting, structurally strong results you will love for a lifetime.
---
At Rudisill Cabinet Shop, we build built-in cabinets for customers in Hickory, Conover, Newton, Maiden, Catawba, Lincolnton, Claremont, Vale, Connelly Springs, Valdese, Hildebran, Hudson, Granite Falls, Lenoir, Morganton, Taylorsville, and Blowing Rock, North Carolina.