If you are looking for storage solutions for your home, our built-in cabinets offer the functionality you need.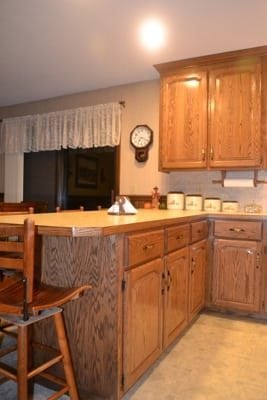 Storage space is a vital component of any home, and something that many homeowners wish they had more of. Even if all the basic systems are working perfectly, your home can still be dysfunctional if it has limited or poorly designed storage that prevents you from finding what you need. While there are steps you can take to temporarily increase your storage, if you're looking for a long-term solution, we recommend that you consider adding built-in cabinets.
Built-in cabinets offer an ideal solution to storage problems. Our team at Rudisill Cabinet Shop has decades of experience in designing cabinets to provide logical, accessible organization and maximize the functionality of any space. We'll help you customize your cabinets to suit your particular needs and preferences, from creating the ideal layout for traffic flow to selecting the right wood and finish. Our master carpenters use only the highest-quality wood materials and never compromise with substitutes like particle board, so you can rest assured that your built-in cabinets will continue to provide your home with functionality and beauty for years to come.
While some homeowners opt for pre-fabricated cabinets due to budget restrictions, those who choose custom built-in cabinets find them well worth the investment. Not only will built-in cabinets make your home more functional and improve your daily life, but they will also give your home additional value and make it more attractive to potential buyers should you choose to sell it. At Rudisill Cabinet Shop, we want to help you make your Conover, North Carolina home the best it can be, so if you are interested in adding built-in cabinets, just give us a call.
---
At Rudisill Cabinet Shop, we build built-in cabinets for customers in Hickory, Conover, Newton, Maiden, Catawba, Lincolnton, Claremont, Vale, Connelly Springs, Valdese, Hildebran, Hudson, Granite Falls, Lenoir, Morganton, Taylorsville, and Blowing Rock, North Carolina.